A Quick Recap of the Google Chrome Privacy Sandbox's Impact and the Industry's Response: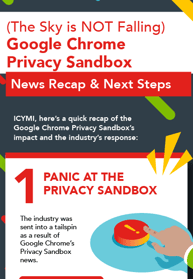 Better yet, view and share the Infographic which includes a recap of everything below!
Click to jump to each section:
1. PANIC AT THE PRIVACY SANDBOX
The industry was sent into a tailspin as a result of Google Chrome's Privacy Sandbox news.

Read the Chrome Announcement here
2. LOTAME RESPONDED: AN 'OPEN LETTER TO THE INDUSTRY'
Read the Open Letter here
3. LOTAME HOSTED A FACT CHECK BRIEFING WEBINAR: CHROME, COOKIES AND DATA
For your convenience, we've included the webinar timestamps below so you can easily navigate to the section you're most interested in:
Google Chrome Privacy Sandbox Announcement - 3:14

Deep Dive: 3rd-Party Cookies and 1st-Party Data - 16:26

Deep Dive: 1st-Party Cookies and 1st-Party Data - 38:25

Summary and Next Steps - 51:21
Access the Webinar Replay Below:
Click the square in the lower right corner to view in full screen and ESC to exit
4. PRIVACY SANDBOX LINKEDIN GROUP
This is an industry-wide effort and all voices should be heard. As Adam mentioned during the webinar, we would love more interaction and open conversation. Defining the future of our industry for businesses and consumers alike is in our hands.
To that end, we've created a private LinkedIn Privacy Sandbox group to talk more about what's on your minds and how we can collectively solve the challenges ahead.
ABOUT LOTAME
Lotame is the world's leading unstacked data solutions company, helping publishers, marketers and agencies find new customers, increase engagement, and grow revenue through audience data. Our real-time data management technologies, global data exchanges, and award-winning customer service make us the unrivaled, unstacked choice for clients that want a flexible, scalable and cost-effective antidote to walled gardens from the large MarTech stack companies. As the pioneer data management platform thirteen years ago, Lotame has continuously innovated to become the trusted data solutions company for global enterprises. Lotame is headquartered in New York City and Columbia MD, with offices around the world, including London, Singapore, Mumbai and Sydney. Learn more at www.lotame.com.